When one hears the words 'medical aids', the words 'easy to use' and 'comfortable' rarely follow – until now.
Neomi Bennett – trained nurse and entrepreneur – is bridging the gap between comfort and medical necessity with Neo-Slip®: a revolutionary, easy-to-use anti-embolism stocking aid that has solved a widespread problem for nurses and patients alike. Read on to learn about Neomi's journey from nurse to businesswoman (which has included a terrifying yet tantalising television appearance and winning a whopping eleven awards!).
IN THE SPOTLIGHT:

Name: Neomi Bennett

Age: 43

Location: London

Degree: Nursing at Kingston University
TELL US A BIT ABOUT YOURSELF AND YOUR JOURNEY TO BECOMING AN ENTREPRENEUR. HAVE YOU ALWAYS BEEN INTERESTED IN ENTERPRISE?
I had no idea that I would be interested in enterprise – I was an underachiever at school, unable to gain traditional qualifications, and left at 16.  I went back into education 20 years later as a mature student and completed an Access to Nursing course before securing a place at Kingston University.
It was a second chance for me and I worked hard and accidentally discovered a solution for an age-old problem. I began to fulfil a need and that's when I realised I am a businesswoman and also realised how much I enjoy the journey.
WHERE DID THE IDEA FOR NEO-SLIP COME FROM?
I was given a risk assessment essay whilst in my final year at Kingston University.  Teachers encouraged us to look at problems and issues that we have experienced which potentially create difficulties for patients.  I decided to explore anti-embolism stockings. Anti-embolism stockings are the tight stockings given in hospital after an operation and they help prevent deep vein thrombosis (a fatal blood clot that can cause death or long term damage to the veins)
In the UK, 25,000 people die of DVT each year – and anti-embolism stockings prevent this.   I noticed that patients were not wearing the stockings and nurses constantly struggled to get stockings on their patients. The main reason for non-adherence is that the stockings are so tight – this often puts people off and discourages their use.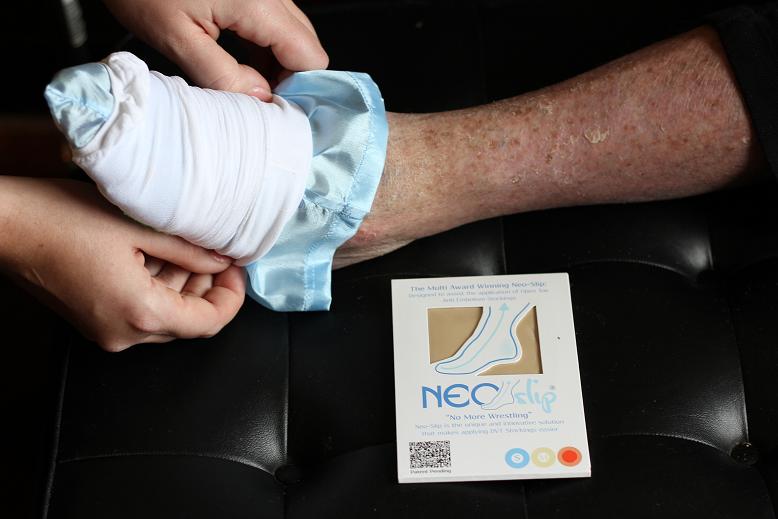 HOW DID YOU PROGRESS YOUR BUSINESS FROM IDEA TO REALITY?
I carried out experiments with various materials to try and reduce the friction caused by the tight elasticated stockings.  Once I had a prototype, we put together focus groups with patients, nurses and doctors. I worked with graduates to develop and design packaging and collaborated with the NHS to gain a better understanding of the requirements and quality standards.
I joined Kingston University Entrepreneur Society and this enabled me to learn the basics of business, which included invoicing, databases and intellectual property.  In addition, I won a grant from UnLtd, which is a charitable organisation in the UK that promotes social entrepreneurship. I used the grant to start the production of my product.
HOW DO YOU SPREAD THE WORD ABOUT WHAT YOU DO?
We spread the word about Neo-Slip via social media platforms such as Facebook, LinkedIn, and Instagram. Twitter is also very useful as it helps to generate leads and allows us to connect with key players in the market.  We attend business-networking events and generally connect with our customers.  We receive lots of requests and enquiries by word of mouth.
You are a registered nurse: how has your background and personal experiences within this industry contributed to your success?
Key skills taught as a student nurse include effective communication, empathy and the ability to listen.  These are transferable skills and extremely useful for creating a successful business and building robust relationships with customers as well as patients. My nursing background is ideal when creating our training packages, which are specifically designed for clinical staff.
What does a typical day look like in the world of Neomi Bennett?
Creating and running the business takes tenacity and patience.  There are many elements involved and because of this every day is different, but generally each day starts with a healthy breakfast, meditation and exercise.
I aim to arrive at the office around 8am and set up a list of things to do and plan for the day ahead.  My role includes delegating and supervising staff; communicating with distributors, hospitals and direct to patients; strengthening relationships with our customers; and training nursing staff in how to use the product. I also produce up to date information guides.  We supply independent pharmacies via distributors and I have to ensure all policies and processes are in place and functioning.  I travel across the country for various conferences or to present Neo-Slip to hospitals.
Our product is made in Nottingham and we source all our materials from the UK. Some days I visit my manufacturers and suppliers and some days I work on the infrastructure of the business: this is very important as we are working towards ISO quality standards.
Nursing is very important to me and I maintain my registration by practicing as a nurse at my local hospital whenever I can. I also have three children who all help with the daily duties of running the business.
The business is full on but I do try to have days out and time off!
WHAT HAS BEEN YOUR BIGGEST CHALLENGE TO DATE?
I did not study business and have had to learn much of my role on the job.
Neo-Slip recently became available on NHS prescription. This means that older patients (the most vulnerable) can receive Neo-Slip free of charge from their general practitioner (GP).
Older people are most affected by the issue of being unable to apply stockings because – after being discharged from hospital – many have little or no support at home after an operation.
Being able to receive Neo-Slip on an NHS prescription was my ultimate aim, but the process came with many challenges. Having to learn at a pace to cope with the growth of the business has also been challenging.
You've won eleven awards, which is fantastic – tell us a little more about them.
My first win was Kingston University's 'Bright Ideas' competition –this is an annual competition, which seeks out innovative, exciting and inspiring ideas. Following this, I won various nursing awards including a Royal College of Nursing award, a Patient Safety award, and was placed as a finalist in the NHS Innovation Awards. We won 'People's Choice' in NACUE Varsity Pitch in 2012 (NACUE is the UK's leading membership organisation for engaging students in enterprise) and we were included in the '10 Best Innovative Businesses' category in the Smarta awards in 2014.  We also reached the finals in The Pitch awards in 2013 and went on to secure a prize in the Lloyds TSB Enterprise awards.
What has been your proudest moment so far?
Going on BBC's Dragons' Den.
I was absolutely petrified and worried about being on TV. I'm generally a shy person and do not like attention. However, I had to swallow my pride and fight my fear. Although I didn't secure funding, I managed to highlight the problem of deep vein thrombosis to millions of viewers.  The experience was great and the Dragons were very nice. At one point, I was ready to pull out because the idea of going ahead was very daunting.  However, I felt proud that I followed through with my audition and continued to build my business – we now supply 34 hospitals across the UK.
AND WHO INSPIRES YOU?
Nelson Mandela inspires me – and this Mandela quote continues to resonate with me:
'The brave man is not he who does not feel afraid, but he who conquers that fear.'
WHAT ADVICE DO YOU HAVE FOR ASPIRING STUDENT ENTREPRENEURS?
It always seems impossible until it's done – so just take each day as it arrives. Do a little something every day even if it feels small.  Plan ahead and set small realistic goals. For me it was important to write things down, as these notes have become the basis of many of our processes and procedures within the company.
Most importantly keep going, keep believing and when the going gets tough, seek help/support from your teachers and close friends. A business mentor is also very useful as they can often point you in the right direction or may be able to connect you with other entrepreneurs. Read business books, journals and industry publications as these resources will improve your understanding of business and marketing functions and skills. Attend university entrepreneur groups/societies as this will build your network and connect you with like-minded people.
Remain focused on your product/service and surround yourself with positive people, because often negativity can take over your thoughts and leave you disheartened.
AND FINALLY, IF YOU WERE AN ANIMAL, WHAT WOULD YOU BE?
I love the freedom that comes with discovery and seeing new things; so, if I were an animal, I would want to be an Arctic tern (which is a travelling bird).

The Neo-Slip team  aim to improve health outcomes by providing  inventive solutions and nurse/patient-led products, all of which are informed by a firm belief in the beauty of simplicity. The innovative Neo-Slip stocking aid is now available on an NHS prescription and in multiple hospitals across the country.