Have you ever wondered what the people at your gym class do, or where your fellow passengers waiting at the platform are going and why?
Social media may have left us more digitally connected than ever before, but it doesn't allow for chance meetings and meaningful connections in real time. Until now.
Causr is a new app that manufactures serendipity. It enables people to start a conversation with someone around them, creating a connection that would otherwise have been missed. Indeed, Causr itself was born out of a chance meeting on the tube – a meeting which spurred co-founder of Student Beans, James Eder, to take on his next entrepreneurial challenge.
Keep reading to discover more about the serial entrepreneur and learn why Causr may be your key to connecting with those people around you that you've not met – yet.
In the spotlight:

Name: James Eder

Age: 33

Location: London

Degree/University: Business, University of Birmingham
Tell us a bit about yourself and your journey to becoming an entrepreneur. Have you always been interested in enterprise?
The idea of running a business and being an entrepreneur has always appealed to me. At the age of 13, I started my first enterprise – taking black and white photos of dogs and selling them to their owners – with my brother. M&J Photos was, however, a short-lived venture, as I took photos one week of dogs in the snow, tried to develop the film myself, and it all went wrong, so we stopped after selling only a few photos.
At 17, I created a website with a few friends at school as part of Young Enterprise – a fantastic programme which provided some amazing practical business experiences whilst I was studying for my A-levels. I did design, geography and economics, which set me up to attend the University of Birmingham to study business from 2002-2005.
I got involved in a lot of things at university, from the ski club to AIESEC, and went on work placements to the Philippines and Colombia. I was a brand manager for Yellow Pages and delivered thousands of pounds worth of sponsorship for my halls' summer ball. All of these experiences combined led to me wanting to start a business when I graduated.
At just 22, I founded Student Beans to help students save money, and to help businesses engage with students. I worked on the business for 11 years, but have recently left the day-to-day running of the company with my brother and co-founder, Michael.
Where did the idea for Causr come from, and how did you progress it from concept to reality? Did you do any market testing?
Not long ago I was on the Underground when someone came and sat in the seat next to me. They were clutching their CV, so I asked them where they'd been and what they were looking for. A few weeks later, we were sat together again, this time in the office of my old company.
Sometime later, I needed to speak to a specific person from a specific business. I left the office, was standing on the platform at Golders Green, and happened to meet the exact person I needed to meet. I'd simply asked them if our train was coming soon, and it went from there.
These chance encounters made a real impact on my working life and it got me thinking about the other opportunities I must have missed over the years. That's why I wanted to create Causr. The idea of manufacturing serendipity, though a challenge, was incredibly appealing. I wanted to enable people to create connections that would otherwise be missed. It's clear to me that these all-important conversations often don't happen because people lack confidence, or don't feel like they have permission to start talking to someone they've never met before.
Causr sees past that. It's an enabler – technology that empowers previously unrelated people to connect in real time, face-to-face. It gives people the confidence to start a conversation that may lead to a meaningful opportunity, or simply pass the time and have a chat that might brighten their day.
Our vision is to create millions of meaningful connections for people, all around the world, every day.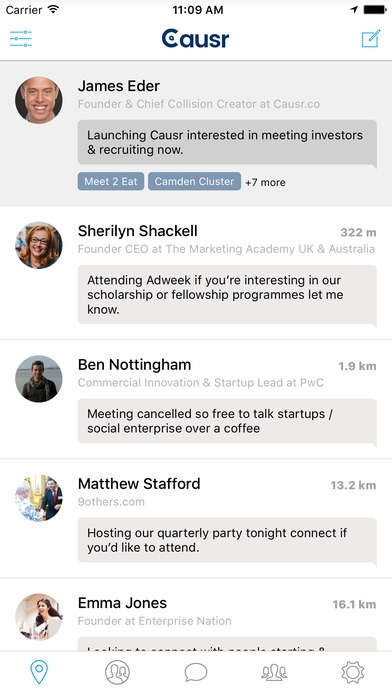 How did you initially finance Causr?
I registered the company in December 2015, and the first few months were all about building the product. I created an initial web app that got 1000 users and then approached a number of Angels. I closed a round of funding earlier this year to be able to build the iOS version. It's important not to let lack of money get in your way, but it's hard and you have to be resourceful; many businesses that get funding over-spend on the wrong things and are nowhere to be seen today.
Causr helps users connect with like-minded people around them, but how do you connect with your audience?
With Causr, the most important thing is our users and the stories behind how they connect with each other. Whilst we're at the beginning of growing our own community – that might be on other social platforms – we're keen to shine a light on our successes and the connections we've helped create. Feel free to get in touch via email (hello@causr.co) or Twitter if you have a story to share.
What does a typical day look like in the world of James Eder?
No two days are the same. From fundraising to recruitment, a breakfast networking event to speaking at a conference, no job is too small or opportunity too big to explore. That's why I love being an entrepreneur: the highs are high and the lows can be very low, but knowing each day that people are connecting and meeting as a result of Causr keeps me going.
What advice do you have for aspiring student entrepreneurs?
They say that if you want something done, give it to a busy person. People talk about work/life balance and, whilst it is important to have balance in your life, my approach is to ask: are you enjoying yourself or not? Focus on the things that you love and it won't feel like work. Being an entrepreneur isn't a 'get rich quick' scheme or the easy route. There are lots of ups and downs but it can be very rewarding. There's a great book called Getting Things Done by David Allen – I wish I'd known about that when I was a student as it has transformed the way I work!
What has been your biggest challenge to date?
Being a startup is hard, but the biggest challenge has to be finding a world-class team to help make your vision a reality. I'm so thankful and grateful for all the amazing people who have helped and worked with me over the years.
And your proudest moment so far?
I was named 'Alumni of the Year' by the University of Birmingham in 2015, ten years after graduating. It was an amazing honour. With my family in the room I gave a speech, which was not only a great experience in itself, but also a great opportunity to reflect on the last ten years and what the team has achieved.
Causr blends the social environment of Facebook with the professional premise of LinkedIn to create a springboard for real-life conversations. Do you think this hails a new era for social media?
Yes! Whilst we're more digitally connected than ever, Causr is all about enabling face-to-face connections and opportunities that otherwise would be missed. Where Facebook is about connecting with friends, and LinkedIn connecting with professional contacts you know, Causr is about unlocking the rest of the world – connecting those people around you that you've not yet met. There are more people within a square mile of you right now that you don't know than you do know, and we're here to help do something about that.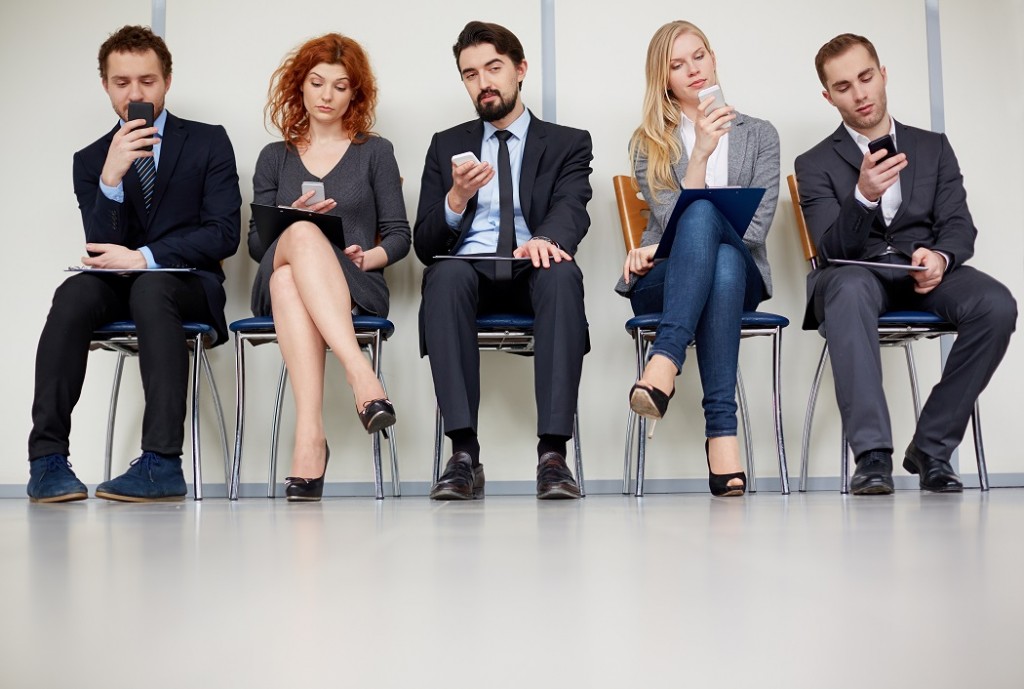 Where do you hope to see Causr in five years' time?
In five years' time the aim is for Causr to be used actively around the world, connecting communities, alumni groups, and employees. You'll be able to land in any major city, log on to Causr, see who's nearby, and connect and collaborate.
Who inspires you?
Elon Musk is an amazing entrepreneur with a vision that is changing the world. Steve Jobs and Anita Roddick, although no longer alive, both played a part in my journey, having seen them speak. Anyone who is willing to stand for something, commit to it, and then deliver on taking an idea and making it a reality is someone I massively respect. Creating something new isn't easy.
There's an age-old debate about whether entrepreneurs are born or made. Do you think your degree/education has contributed to your success?
I don't think you can underestimate the environment that you are raised in. I feel hugely grateful to have gone to a great school and university, however I don't believe it's about the piece of paper you attain or the grades you get. If you aren't academic don't let that stop you. It's about the experiences you have, who you are as a person, and the people you surround yourself with. Don't underestimate values and drive in what you need to be able to achieve.
And finally, if you were an animal, what would you be?
According to this site, and my own preferences, I'm a penguin. What does that say about me? Well, as a penguin I take life in its stride, not letting the big issues of the world stand in my way. I like spending time with large groups of friends and am considered a bit of a socialite, jumping back and forth between different groups of friends. However, I still have time for my family and remain close to them.

Causr is a location-based app helping professionals network on the go. Available from the App Store, log on to see who's near you now and start networking today.