In the spotlight:

Name: Professor Candida Brush

Location: Babson College, MA

Occupation:  F.W. Olin Distinguished Professor of Entrepreneurship; Vice Provost of Global Entrepreneurial Leadership; Research Director, Arthur M. Blank Center (at Babson College).  Senior Editor, Entrepreneurship Theory and Practice. Visiting Adjunct, Bodo Graduate School, Nord University.
You are an influential individual within the enterprise education space. What does 'enterprise education' mean to you, and why do you think it's important?
I don't actually think about "enterprise" education; rather, I think about "entrepreneurial" education. Enterprise to me implies that this is about an entity, or a business—whereas I think of "entrepreneurial" as the mindset that entrepreneurs apply to different ventures, businesses or situations. Therefore, "entrepreneurial" education is about providing students, practitioners, and policy-makers with entrepreneurial skills and competencies.
How did you first become involved with enterprise education?
I became involved as a result of studying entrepreneurs—in particular, I did one of the first and largest studies of women entrepreneurs in the US in the early 1980s[i], and then in the 1990s I was involved in a major collaborative research project about nascent entrepreneurs.  This project was a random household study of entrepreneurs in the process of starting businesses. We examined the start-up activities to determine the actions they took that led to successful venture launch and sustainability.  Contrary to early theory – which argued that entrepreneurs were "born" – this major research project showed that it was actions that made a difference.
Can entrepreneurship be included at all stages of education, and within every subject? If yes, how? If no, why not?
Absolutely!  Entrepreneurial thinking is a mindset, and it includes identifying or creating opportunities, acquiring the resources, and providing the leadership to create something of economic and/or social value.  Entrepreneurial thinking employs both creative logic, rooted in who you are, what you know, and who you know, and the resources you can afford to lose – as well as predictive logic, which is a more systematic strategic approach (identify the problem, analyse the situation, acquire the resources and execute).[ii]  Because this is a mindset, it can be applied to any type of business – family, franchise, small business, new business, corporate innovation, etc.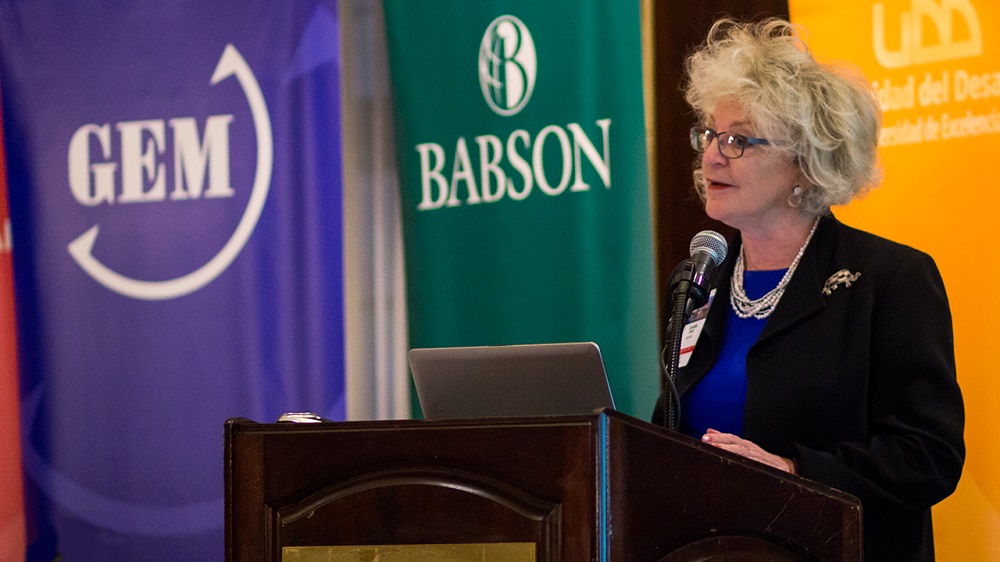 You are a founding member of the Diana Project, a long-term study of women business owners. How much progress has been made in terms of supporting female entrepreneurs – and what still needs to be done?
Yes, this has been a wonderful adventure.  There were 5 of us who founded the Diana Project and over the years we have expanded the research globally.  We now have more than 500 scholars from 47 countries involved in researching women's entrepreneurship.  Over the time of our research, we have seen great progress in the research both generally and practically, in terms of support, programmes and growth in start-ups by women entrepreneurs.[iii] In the US in particular, women entrepreneurs are a significant force (36% of all US businesses are 51% women-owned).  Yet, there are still challenges. Women still have difficulty in accessing venture capital in particular.[iv]
For students who don't want to be entrepreneurs, what other benefits does enterprise education provide?
As I mentioned, having an entrepreneurial mindset is a way to think through problems and lead a business, whether or not it is a business you create.  Creative problem solving is useful in any type of enterprise.  Further, part of our entrepreneurial education involves learning how to fail and be resilient – this is useful in any situation!
You have been a strong proponent for diversity in entrepreneurship, commenting that the world needs to 'recognise that all populations of entrepreneurs can and should contribute to the economies of the world—not just a select few'. Tell us a little about your role as Vice Provost of Global Entrepreneurial Leadership, and what you hope can be achieved through your work in this sphere.
Thank you for asking this question. Historically, there has been an assumption that all entrepreneurs are the same, and therefore, policy can be a "one size fits all". But over time we have learned that there are many different factors influencing entrepreneurship. Socio-cultural, religious, political, demographic and economic circumstances may facilitate or inhibit entrepreneurs. Women entrepreneurs of colour may face different obstacles than white male entrepreneurs. Single parents of low income may similarly face different challenges.  Therefore, when we create programmes, policies and initiatives, we need to consider that economies can benefit when everyone has equal access to learning entrepreneurial skills and competencies.
You've had an amazing career, pioneering entrepreneurship through your teaching, academic research and writing (with too many awards and degrees to name here!). Can you share a few of your most significant moments or personal achievements with us?
This is a hard question, but I think the high points have been the wonderful collaborations with co-authors – in particular, my Diana Project co-founders.[v]  Our 20+ years of work, collaboration, friendship and other activities have been truly special.  I have other research collaborations, notably my work with Linda Edelman and Tatiana Manolova, and the energy, inspiration and excitement we have shared when writing papers also represents some of my favourite memories.
What does a typical day look like in the world of Candida Brush?
Well, this completely depends! If I am on campus, I am mostly in meetings – back to back, working with my amazing Entrepreneurial Center Directors, and the staff, faculty and students at Babson on entrepreneurial projects and initiatives. If it is summer, I would write and work on my research in the morning, do calls early afternoon, and maybe get in a round of golf (my favourite pastime!)
And finally, Candida, tell us: if you were an animal, what would you be and why?
How fun!  I would probably be a dolphin – playful, defender of the seas, and intelligent (!). I am a pescatarian so this works for me, too.
---
[i] Brush, C. 1992. Research on Women Business Owners: Past Trends, Future Directions, and a New Perspective", Entrepreneurship Theory and Practice, 16:4, 5-30
[ii] Brush, C.,  Greene, P.  Balachandra, L., & Davis A., 2014 The Diana Report- Bridging the Gap for Women Entrepreneurs, sponsored by CWEL and Ernst & Young
[iii] Jennings, J. & Brush, C. 2013. Research on women entrepreneurs: challenges to (and from) the borader entrepreneurship literature?  Academy of Management Annals.    7:1, 663-715
[iv] Neck, H., Greene, P.,  & Brush, C. 2014. Teaching Entrepreneurship:  A Practice Based Approach, Cheltenham, UK:  Edward F. Elgar Publishing
[v] Gatewood, E., Brush, C., Carter, N., Greene, P., & Hart, M. 2009.  Diana: A Symbol of women entrepreneurs hunt for knowledge, money and the rewards of entrepreneurship.  Small Business Economics.  32:2, 129-144