In the spotlight:

Name: Joanna Mills

Location: Wellcome Genome Campus, Cambridge

Occupation: Entrepreneurship and Innovation Centre Manager, Wellcome Genome Campus
You are an influential individual within the enterprise education space. What does 'enterprise education' mean to you, and why do you think it's important?
Having been involved in the development of the QAA's guidance on enterprise and entrepreneurship education which was published back in 2012, I still feel that their definition encapsulates the definition of enterprise education really well:
'Enterprise education aims to produce graduates with the mindset and skills to come up with original ideas in response to identified needs and shortfalls, and the ability to act on them. In short, having an idea and making it happen. Enterprise skills include taking the initiative, intuitive decision making, making things happen, networking, identifying opportunities, creative problem solving, innovating, strategic thinking, and personal effectiveness. Enterprise education extends beyond knowledge acquisition to a wide range of emotional, intellectual, social, and practical skills.'
For me, I have had the opportunity and privilege to work with many outstanding students – some with brilliant ideas, and others with what seem like fairly ordinary ideas but which are more complex to execute. Enterprise education in many ways is about developing a set of core skills (listed in the definition above), many of them 'soft skills' which can be hard to learn but which are critical to successful execution of any ideas.
As enterprise educators, our role is often about providing the stimulus (a project or task as enterprise skills need to be learned by doing) and a safe environment for students to experiment, learn and practice those skills, so that they build the confidence they need to have an idea and then make it happen. Seeing students succeed in developing their confidence in these skills and supporting students in their journey as they 'have a go' at their ideas is one of the true joys of facilitating enterprise education.
How did you first become involved with enterprise education?
I'm a scientist by training, having studied biochemistry at undergraduate level and completing an MSc and PhD in biochemical engineering. After finishing my PhD at University College London, I was offered an opportunity to be involved in a new initiative to develop a post-experience master's programme at the interface between the department and the biotech industry. This naturally brought me into contact with many entrepreneurial companies and ultimately saw me start to develop more intrapreneurial pathways for myself. I then relocated to Cambridge in 2001 as part of the early team in the University of Cambridge's Entrepreneurship Centre where, as part of their teaching and training team, my focus was to launch a range of initiatives – both extracurricular and within the curriculum of various degree programmes.
How has enterprise education changed over the years, and how does it benefit students today?
Back in 2001, enterprise education was relatively new, having been encouraged through government funding initiatives such as the Science Enterprise Challenge and the Higher Education Innovation Fund. It seemed to focus more specifically on entrepreneurship and either taught students how to write great business plans or put them in the shoes of the protagonist entrepreneurs of Harvard-style case studies. In my experiences at Cambridge, the former tended to be found in extra-curricular activities and student-driven business plan competitions, and the latter in MBA classes only. A key discussion point amongst entrepreneurship educators at the time was around how to move on from teaching and learning about entrepreneurship to stimulating learning for enterprise and entrepreneurship.
We've moved a very long way over the years, and with the input of various structures (such as the QAA guidance) and organisations (such as EEUK) we're much better placed to nurture the personal and 'soft skills' for entrepreneurship – the skills that actually matter to execute on a great business opportunity.
From the perspective of implementing and delivering enterprise education, educators have also worked and succeeded in developing the ecosystems and environments within which nascent entrepreneurs can learn. I'm a firm believer in having role model entrepreneurs and practitioners as teachers of enterprise education, both formally and informally – through getting them into the classroom to deliver lectures, mentoring students, setting projects, giving feedback to student presentations or simply networking informally. I believe this is becoming more acceptable within our institutions and we're starting to be more creative in how we involve entrepreneurial ecosystems in enterprise education. Which is great – as many entrepreneurs do want to 'give back' and support the next generation of entrepreneurs.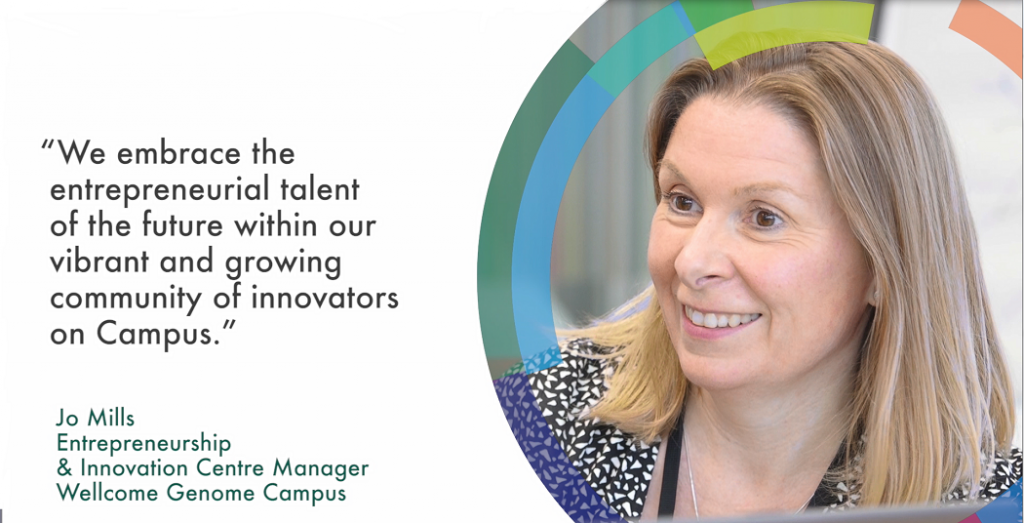 During over 15 years at the Judge Business School (University of Cambridge), you were responsible for developing and directing the postgraduate diploma in entrepreneurship. What would you say to any institutions or academics who have still not included enterprise education within their curriculum?
I'd definitely encourage them. Often development of some core enterprise skills is already incorporated through project work, team based tasks, presentations and so on – but it is not necessarily recognised as contributing to the development of enterprise skills, nor is the value of these skills really highlighted to students. Of course, such interventions do not cover enterprise education fully, but there's plenty of help out there for institutions – so no excuses. There are many tools and frameworks, support networks and examples of really creative ways in which enterprise education can be delivered into the curriculum within individual modules or integrated at programme level.
As Entrepreneurship and Innovation Centre Manager at the Wellcome Genome Campus, you specifically think about enterprise within the context of genomics and biodata. Why is it important that scientists and clinicians think about, and have a have a grounding in, enterprise? 
I feel extremely privileged to be located at the Wellcome Genome Campus – it's home to two world leading research institutes (the Wellcome Sanger Institute and EMBL's European Bioinformatics Institute) that together sequenced about one third of the first human genome back in the late 1990's/early 2000's – a task that took more than 10 years and $3bn to achieve. The science on Campus continues to be outstanding and technology has developed rapidly such that genomes can be sequenced in just a few hours and for less than $1000 – so significantly faster and cheaper. This technology, combined with the huge volumes of data that genomics generates, means that we have the knowledge and potential to impact human health through personalised treatments, diagnosing and treating rare conditions more effectively, managing the spread of malaria and other pathogenic diseases and so on.
However, to make this kind of impact, we need outstanding genomic scientists and bioinformaticians to actively combine both their deep domain knowledge and enterprising skills to take ground-breaking developments forward. It's often said (by entrepreneurs here on Campus anyway) that scientists are used to failure and that launching a start-up is no more of a risk than doing a PhD or postdoc – so I have no doubt that many great scientists have the capability to think and act in more enterprising ways. I believe the key is inspiring them to think about their aspirations for themselves and their science beyond the lab, and creating the right environment to give them the confidence to be more enterprising in their approaches. Of course, we also need to give them the grounding to understand issues around intellectual property, develop their understanding of the industrial and clinical context so that they can define their market, explore business models and so on, but once they have established that they have a great opportunity – and then the focus needs to be shifted to nurturing them within the ecosystem.
For students who don't want to be entrepreneurs, what other benefits does enterprise education provide?
Undoubtedly enterprise education develops valuable general employability skills. From an employer's perspective, who wouldn't want to have on board a bright graduate who has the confidence to use enterprising skills to test and develop new ideas, implement them and make an impact?
Where do you hope to see enterprise education in five years' time?
It would be great to see it embedded creatively in all university curricula, and learning from new approaches continuing to be shared amongst educators.
I think there are some interesting developments in university education which provide excellent opportunities for us to be even more creative in the way that we embed enterprise education in the curriculum. For example, I'm involved in a project here at the Wellcome Genome Campus where we are part of a collaborative effort to deliver a degree-level apprenticeship programme in bioinformatics – this involves working with a range of genome and biodata employers and a university partner, who together seek to take a step towards fulfilling a significant workforce need in this field. The role and form of enterprise education within the overall curriculum has had very healthy coverage within our discussions to date, and is well supported by the potential employers – some of which will be entrepreneurial organisations and others where innovation is central to what they do. Within these new types of degree programme, and working with employers, we have the possibility to instil industry knowledge and enterprise skills in more powerful ways through real projects in the workplace. I'm excited to see what we can achieve and how our apprentices develop and apply their newfound enterprising skills and knowledge.
What does a typical day look like in the world of Joanna Mills?
Do typical days exist?! My days can be really varied – I have two distinct but related aspects to my role here at the Wellcome Genome Campus. Firstly, I manage the BioData Innovation Centre which is a base for eight partner companies that are all innovators in the genomes and biodata space – some are young ventures, including spin-outs from the two research institutes on Campus, and others are teams from more mature and sometimes international organisations. The other aspect of my role is to stimulate a more entrepreneurial culture on Campus, which is mostly through entrepreneurial learning activities and opportunities, but also through involvement in other Campus level initiatives. Therefore, my days could – and often do – include anything from thinking through how we accommodate a partner company during a phase of rapid growth, to hosting an entrepreneurship seminar or supporting some of our graduate students as they work on their early-stage business ideas.
Underpinning both aspects of my role, however, is the need to build an enterprise ecosystem for the Campus – one which connects the companies and the research institutes already here with the people within them on Campus and beyond – so that we have greater capacity to create and capture value from innovations around our science. So, I guess, if there are any typical aspects to my day, it would be that they always include some element of networking and connecting.
And finally, Joanna, tell us: if you were an animal, what would you be and why?
I actually put this question to my kids – one of whom likened me to a giraffe on the basis that they really don't look like they can run but actually can move quite fast. For those who know me, I'm neither tall nor particularly athletic, and whilst I'm aspiring to do something about my fitness at the moment, being a giraffe would certainly help with being taller.
One interesting fact about giraffes, though, is the way that they manage their blood pressure when they move their heads – given that their heads are so far away from their hearts. Some recent research has found that, contrary to earlier thinking, giraffe's hearts are relatively small but their heart walls are thick and, unusually, they have muscles in the veins of their neck. Entrepreneurship can certainly raise the blood pressure, for sure, but entrepreneurship – and enterprise education to a certain extent – is also about encouraging entrepreneurs to construct their own 'thick walls and muscles in the veins': that is, the support networks of mentors and others that can be so valuable during the tough and challenging times, and who can celebrate successes with you!